How to Shop from Amazon in Nepal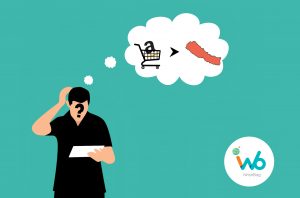 Have you ever tried to buy anything using Amazon in Nepal, just to annoyingly learn in the end that you can't actually pay for them with your Nepali cash or bank card and consequently can't have your product shipped directly to your address? If your answer is yes, this article is definitely a must read for you!
It's a well known fact that you can't actually buy all the goods you want from the markets in Nepal. Although a lot of the most highly demanded products are readily available in the local markets, yet many less demanded specialty or niche products are either not available or are rarely available and are priced beyond the affordable range of many. But should you lose your hope and just give up on the idea of getting your desired products in Nepal altogether? SURELY NOT!
At iWishBag, we receive a lot of inquiries every month from people asking us if its possible to get the products they found on Amazon or other international ecommerce website shipped to their address in Nepal. The answers we give almost every time is 'if it's not illegal, then YES absolutely: we can help'! 
iWishBag is an online platform that allows people to buy products from the US and India. Our mission is to make a positive difference in people's lives by giving them access to products and resources from the global markets. Read more about us here.
Using iWishBag to order from Amazon in Nepal
For receiving any product from Amazon in Nepal by using iWishBag, we usually advise our users to either choose to order through Amazon's US-based international website (www.amazon.com) or you could use their Indian website (www.amazon.in) as we have direct presence in both the countries. However, you can use other international versions of the website as well. So let's look at the step-by-step method of ordering your desired Amazon product using iWishBag.
Step 1: Visit the iWishBag website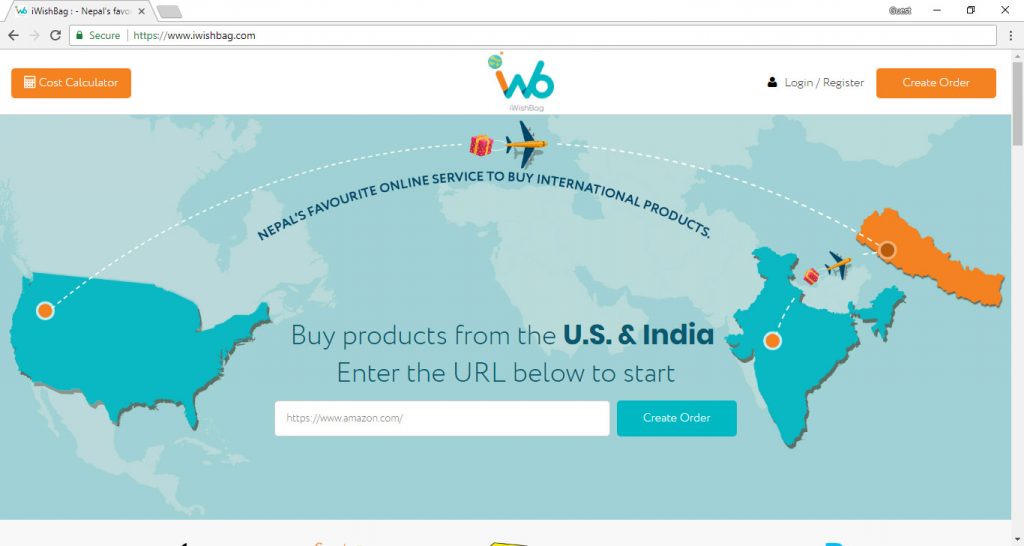 Open your browser and enter our website address www.iwishbag.com on the address bar. From there you will be directed to our front page. Then click on the Login/Register button on the top right part of your browser and you will be led to a link to register a new account or an option to login with your existing account.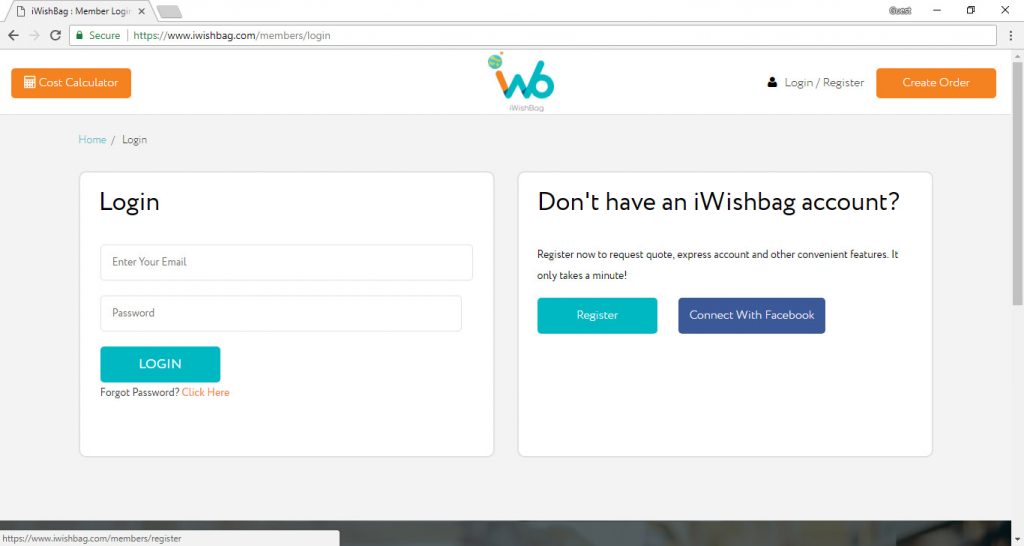 To register a new account you can either fill in a form with your email, phone number and address details. Once you fill up the form, click the Register button. After this process, go to your email inbox and look for the mail from iWishBag to confirm that you are successfully registered. Alternatively, you can also directly link your Facebook account by clicking on the blue 'Connect With Facebook' button.
Congratulations, you are now officially a registered user at iWishBag! Let move to the next steps now!
Step 2: Open Amazon's international or Indian website from your browser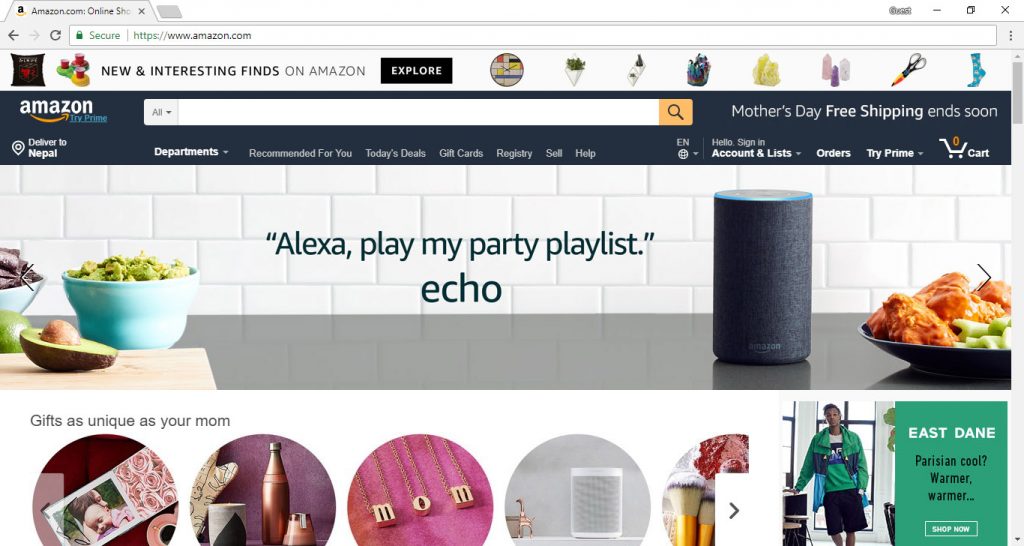 In this step, you will need to open amazon.com or amazon.in from a supported browser with your device. For this demonstration we will be referring to Amazon's US-based international website. You will not need to sign up or sign in to Amazon to use iWishBag.
Step 3: Search and locate your desired product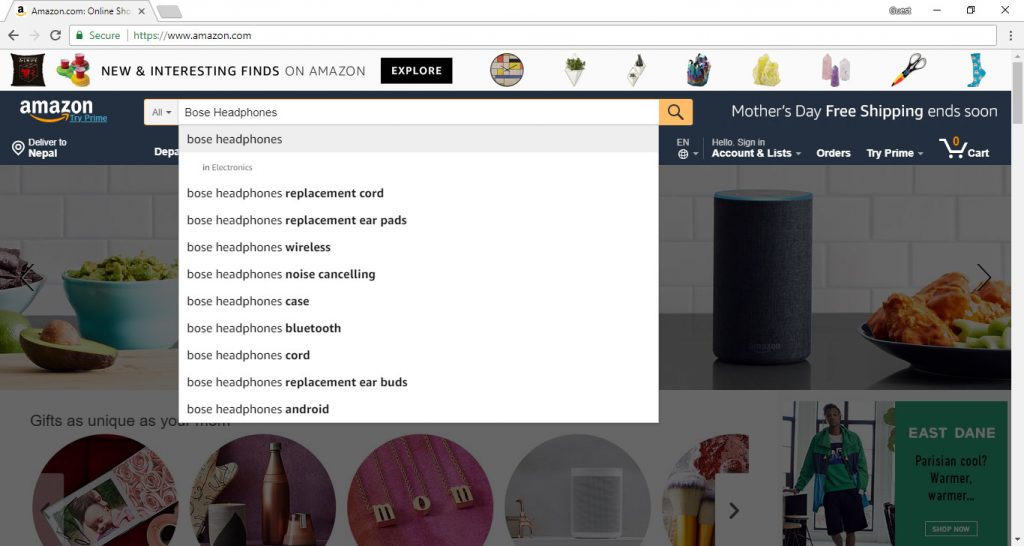 Type the appropriate keyword or the exact product you want and locate what you actually want. Make sure to browse multiple pages so that you get either the least possible price or the best quality product. For example, if we are looking for a pair of Bose Headphones, we will locate the product in Amazon and scroll and click the next pages to look for the best deal. Do take adequate time to ensure that you have actually chosen the right product.
Step 4: Copy the Amazon URL from the address bar of the browser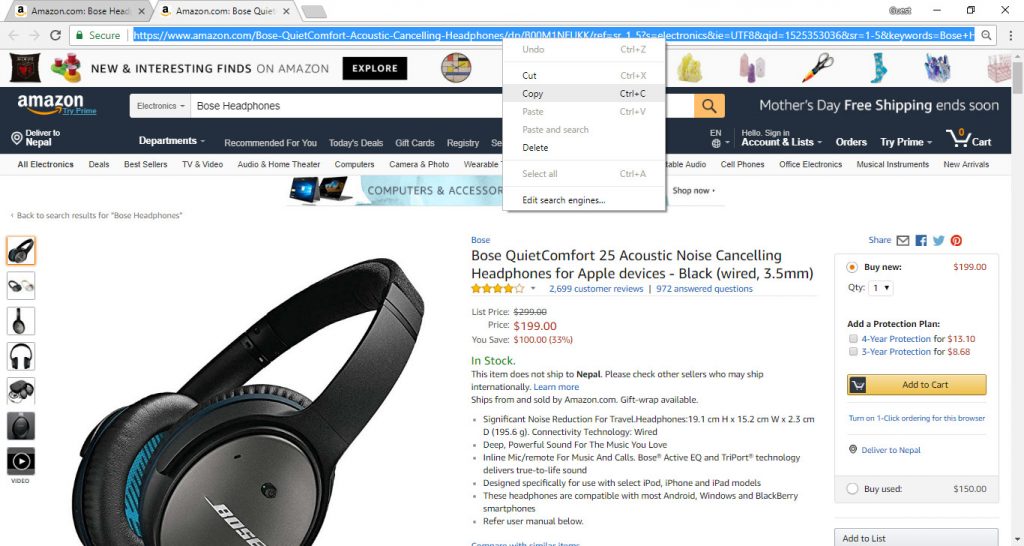 Once you have chosen your product, copy the amazon link at the address bar of your browser. Alternatively, you could also use the 'share link' button and copy the Amazon shortlink.
Step 5: Create your order at iWishBag by pasting the Amazon URL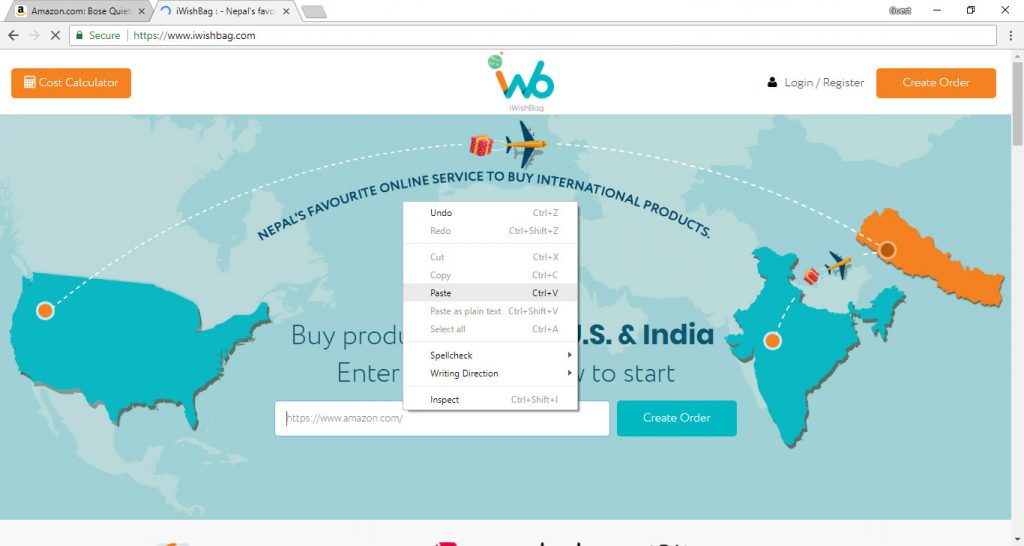 Go to the homepage of iWishBag again and in the text box at the center of the page, paste your Amazon link and then click the 'Create Order' button.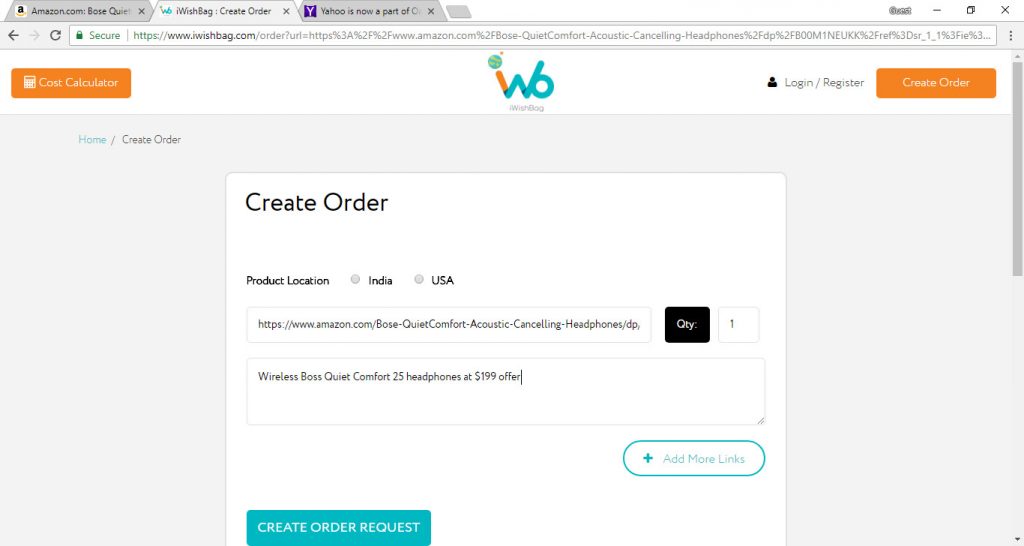 Now you will be led to another page to put your order details. Put a comment about your product with more descriptions and necessary instructions about the product and click on the 'Create Order Request' Button.
Step 6: Get order creation confirmation and quote reply from iWishBag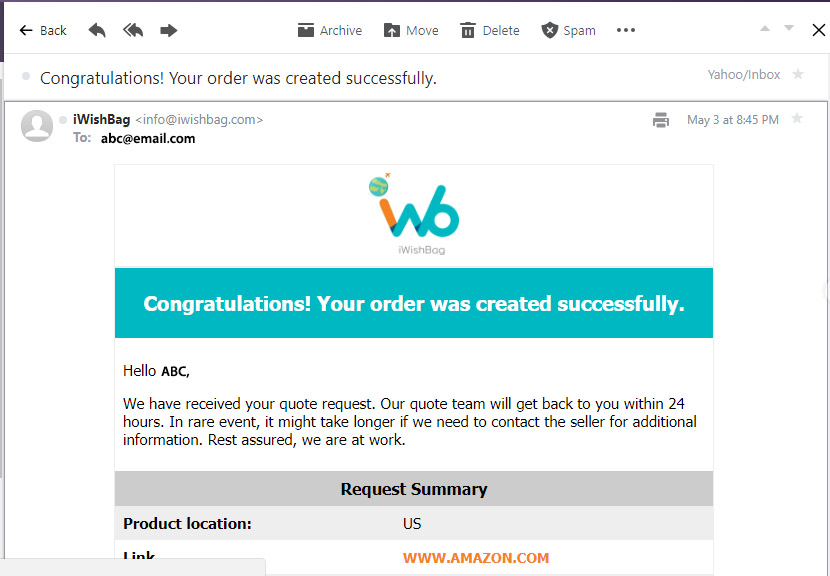 After you create an order request, you will get an order creation confirmation in your email inbox. Once this order is created, representatives from iWishBag will mail you back within 48 hours with the final quote details. This quote will include the total charges that you will need to pay including taxes and the estimated duration of delivery of the product to your doorstep. If you are satisfied with the quote, login to iWishBag and choose the approve option and then click on Update Quote.
Step 7: Finalize payment method

After you update the quote, you will be directed to a new page where you can choose a payment method that's most suitable for you. There are currently four options for finalizing payment, which include:
Cash Pickup:

Here representatives from iWishBag will come to your doorstep to receive cash on your behalf at an added cost of Rs. 100 per transaction.

Bank Deposit:

Here

you will be handed iWishBag's account details for you to deposit cash/cheque. You can then scan the deposit voucher and send it to us through the email or inform us about the details after you have deposited.

Office Visit:

You can also directly visit the offices of iWishBag and give us cash or cheque.

Paypal:

If you have an international PayPal account, you can directly pay iWishBag in USDs.
Step 8: Pay and relax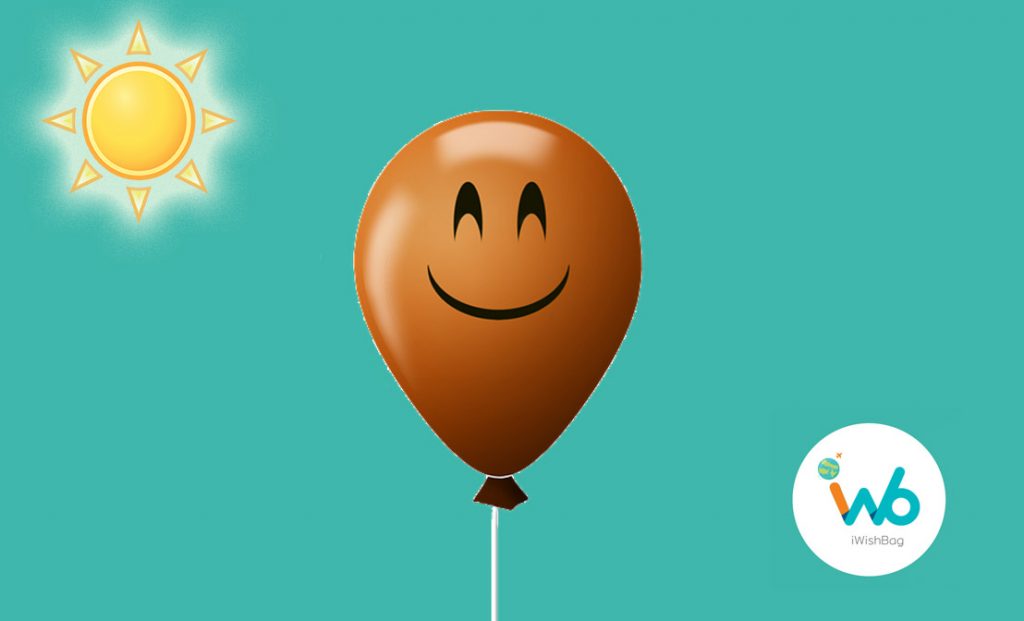 So once iWishBag receives your payment, you will get the confirmation by mail and then process your order as per the quote. Just relax and let us take care of your order.
Step 9: Receive Order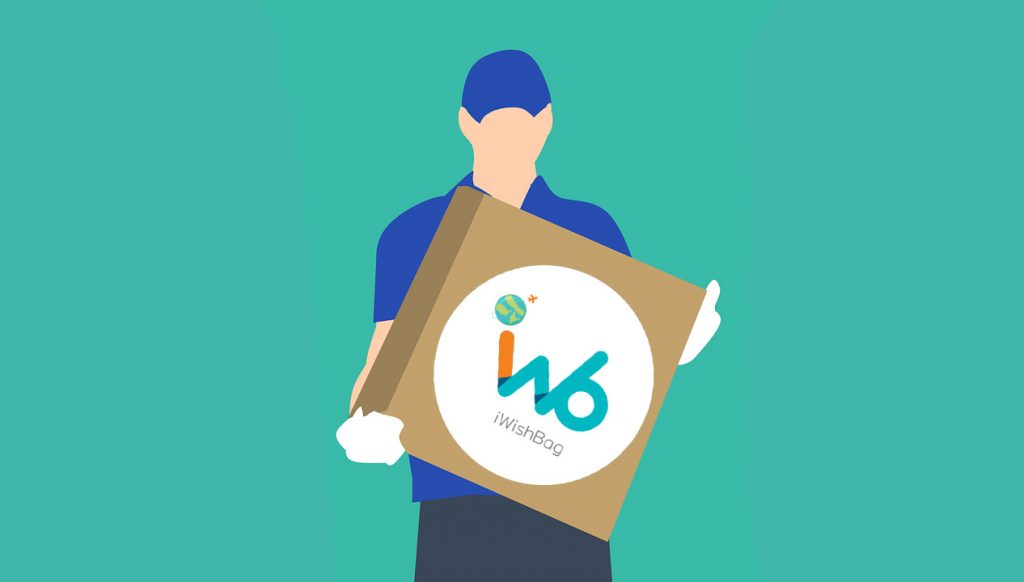 In the final step, you will be receiving the confirmation of the arrival of your product in your mail. At this stage, your product will come to your listed address along with the final invoice that you will need to sign to confirm that your order has safely arrived to you.
4 handy tips before ordering
Now that you know how to order anything from Amazon in Nepal through iWishBag, here are some handy tips to ensure that you get your best out of your purchases through our platform.
Tip 1: Put genuine contact details
Always provide a genuine name and a working phone number and email details. If possible, please sign up with an email address that's actively used and a phone number with reliable network coverage. Even if you sign-up with a genuine Facebook ID, make sure that your phone number and email details are correctly filled out later.
Tip 2: Research as much as you can
Don't hesitate to do an extensive research about your product quality and price before handing the final quote. If possible, do look for the same product in multiple web portals from both India and USA so that you can get the best deal. Before you request a customized quote on your product, you can directly estimate the final expenses by using our 'cost calculator' located at the top left corner of our homepage.
Tip 3: Be clear about your shipping address
To ensure that your product reaches your doorstep, always put landmarks that are easy to locate. Considering that some locations in the country are more accessible than others, do ensure that your packages are shipped in an addresses that are safe to receive and not very hard to reach.
Tip 4: Ensure that your payment is safely received
Do ensure that your full payment is done in advance in the most reliable manner. We recommend bank deposit as the safest and most reliable means of payment. For emergencies and quick deliveries, you can also visit our offices. You can also make use of our cash pickup services, but it will cost you extra. For orders from outside Nepal, PayPal is the most reliable method.
For more tips and answers, visit our FAQ page by following this link.
To sum it up….
iWishBag has been especially designed to make Amazon shopping in Nepal a lot more convenient and reliable. Through our platform, you can buy almost anything from Amazon in Nepal easily and reliably in just a few clicks. Every order that is processed through iWishBag is properly insured and in the rare cases that your products don't come to your hands in the ideal condition, you are guaranteed to get a 100% refund.
Feel free to use our platform or get in touch with us if you have any queries on buying or shipping products from Amazon to Nepal.